October 27, 2022
DieselCore returns to Las Vegas on November 1st thru 3rd, 2022, for AAPEX, the Automotive Aftermarket Parts Expo Show. We're excited to reconnect with our industry brothers and sisters, show off our newly acquired team at Texas Core Supply, meet some new core partners, and hang out on the green carpet with our Remanufacturing industry associates.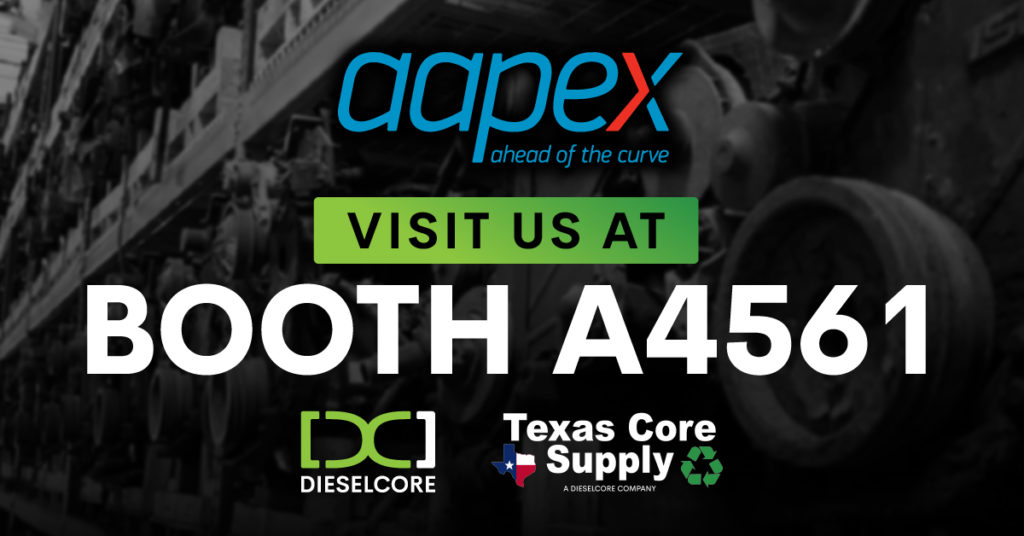 How to Find DieselCore at AAPEX:
Our booth is located on Level 2 of the Venetian Expo. A4561. Use this interactive map feature online to find us. When you see the green carpet in the Remanufacturing area (thanks MERA – The Association for Sustainable Manufacturing!), you are in the right place. Our fearless leader, Justin Greenberg, will be there, along with National Account Managers Gib Goodrich, Tyler Rodgers, and Jimmy McNew. Don't miss out chatting with Joe Vincent from Procurement and Mark Tucker from Marketing too.
About DieselCore:
DieselCore (DC) was born in November 2010 in Katy, Texas, in the garage of CEO Justin Greenberg, after he identified an opportunity in the core supply sector. DieselCore started with one single Cummins engine that was parted out of the back of a pickup. Over the next few years, DieselCore evolved to buy and sell complete engines and piece parts with a focus on turbochargers, pumps, injectors, and other small components. Now, our extensive supply chain network enables us to provide quality rebuildable core across multiple platforms serving the automotive, on-highway, off-highway, agricultural, and construction industries with first-class service, for both diesel and gasoline sectors.
Contact DieselCore:
Find us online at dieselcore.com 24-7-365, where you can buy or sell cores, contact us with specific questions, check out our frequently asked questions, or find out more about how our reverse shopping cart works.